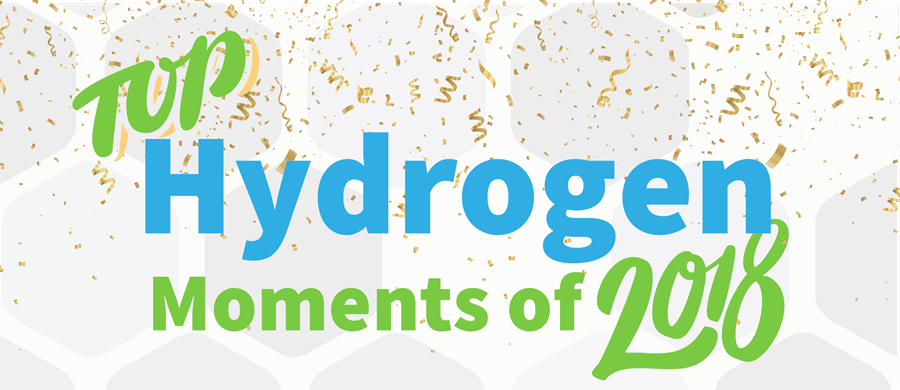 This year has been very exciting and we thank everyone who has partnered with us along the way. The Hydrogen Council reached great milestones and it is all made possible with the support of our members; and also the collaborations and partnerships we have been able to form with many other actors. The global hydrogen economy is one that deserves the attention of us all and the Council is proud to play a leading role.
Of utmost importance is the overall progress achieved by the hydrogen sector this year. In 2018, we have seen encouraging market build-up, with vehicle manufacturing progress and significant plans announced by several players. Refueling stations, power-to-gas projects, and large supply chain deployments are all expanding with many examples already underway: the first hydrogen-powered train began passenger service in Germany, Japan started construction on one of the largest hydrogen production plants in the region, Equinor developed a roadmap for decarbonizing heating systems in the UK, and several regions in China have seen significant development plans for large-scale hydrogen deployment. By the end of the year, close to 10,000 cars will be in operation, projects accounting for hundreds of power-to-gas MW are being developed, several hundred thousand units of stationary power running, and the vision for the role of hydrogen as the energy source of the future is being realized.
Also, quite notably, The Economist recently published its Technology Quarterly, featuring a bold series of articles, noting hydrogen as "the most promising" technological solution to decarbonize our energy system. This type of validation from an esteemed publication must be celebrated and amplified. The case for accelerated hydrogen deployment is expanding, and it is our job at the Hydrogen Council to continue this strong momentum.
As we look toward the new year, we plan to do just that. We hope that you will join us as we build upon the foundation that was laid in 2018. Please share our news with your networks and help us spread the hydrogen narrative around the world. This next year will be fundamental for the Council and we look forward to proceeding with renewed enthusiasm in 2019. To kick off the new year, we hope to see many of you at the World Economic Forum in Davos!
HYDROGEN COUNCIL ACCOMPLISHMENTS IN 2018:
We are very proud of what the Council has accomplished this past year. Join us as we take a look back at a few highlights and exciting moments!
1. Strategized with Korean government for hydrogen deployment
In February, the International Hydrogen Energy Forum in Seoul brought together representatives from the Korean National Assembly and a group of Council steering members. The strategy meeting was the first of its kind with the Korean government, highlighting ways to use hydrogen technology in the country. Learn more here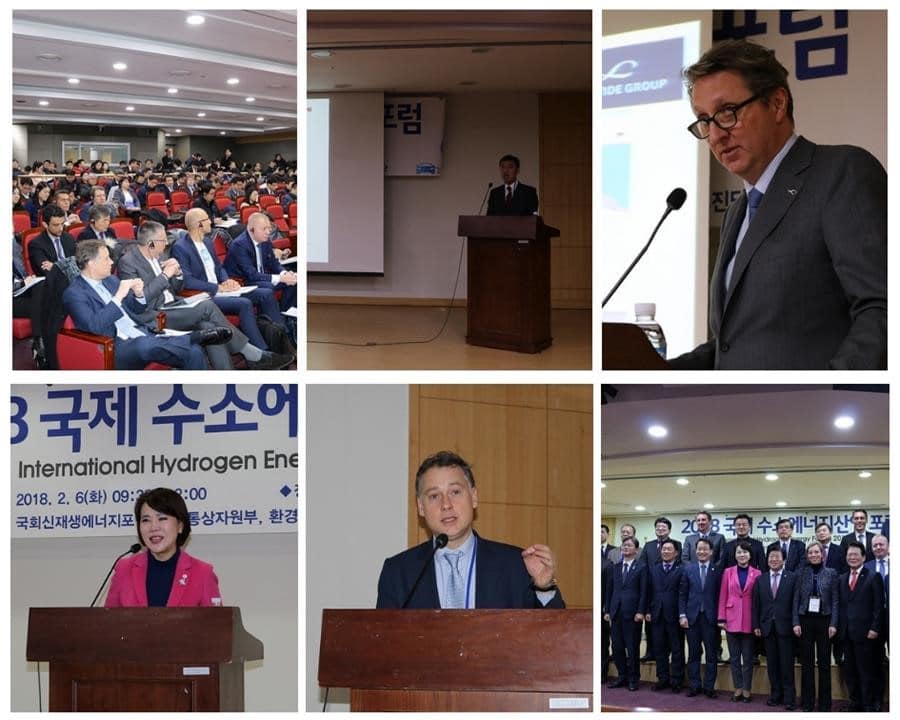 2. Joined Mission Innovation and supported launch of the Hydrogen Innovation Challenge
In May, the Council joined the 9th Clean Energy Ministerial (CEM) co-hosted by Denmark and Sweden. Council Co-Chair Dr. Woong-chul Yang and Initiative Co-Secretary Pierre-Etienne Franc attended high-level roundtables hosted by both Mission Innovation (MI) and CEM respectively. Punctuating the event, the Council publicly supported the launch of a new "Hydrogen Innovation Challenge", promoting international collaboration to accelerate the development of a global hydrogen market. Learn more here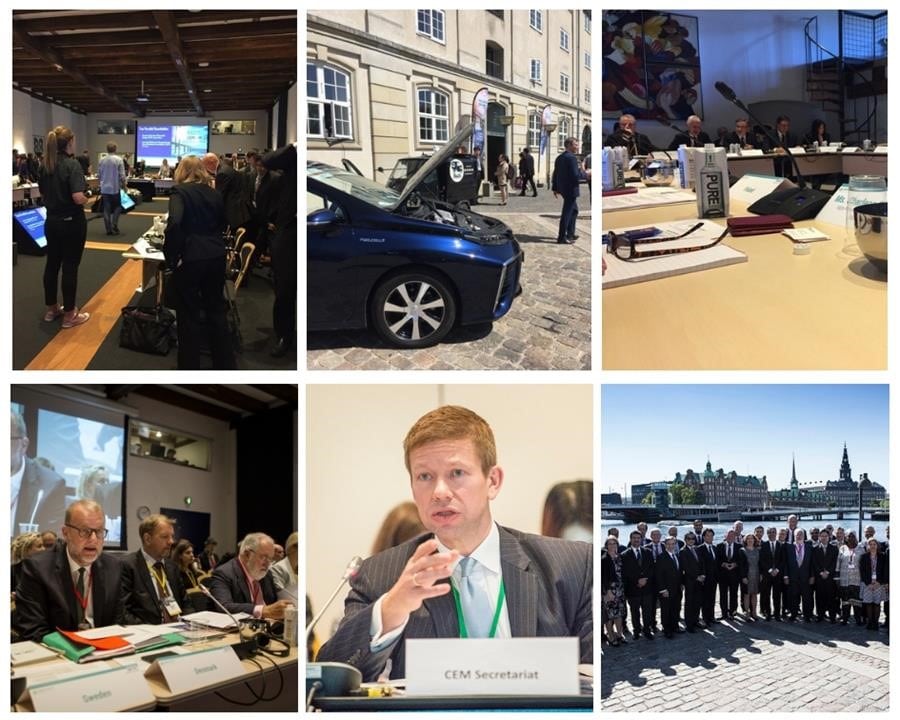 3. Met with high-ranking energy officials for the first time in Washington, USA
In June, the Hydrogen Council landed in Washington, DC on the occasion of the 2018 Fuel Cell and Hydrogen Energy Association Forum. Member companies 3M, Hyundai, Plug Power, and Toyota participated in a panel presentation discussing such topics as fuel cell evolution and investment opportunities. While in DC, Council representatives also participated in the 2018 U.S. Department of Energy (DOE) Hydrogen and Fuel Cells Program Annual Merit Review, culminating in a round table meeting held between DOE Deputy Secretary Dan Brouillette and representatives from the Hydrogen Council to discuss the value of hydrogen technology to the United States. Learn more here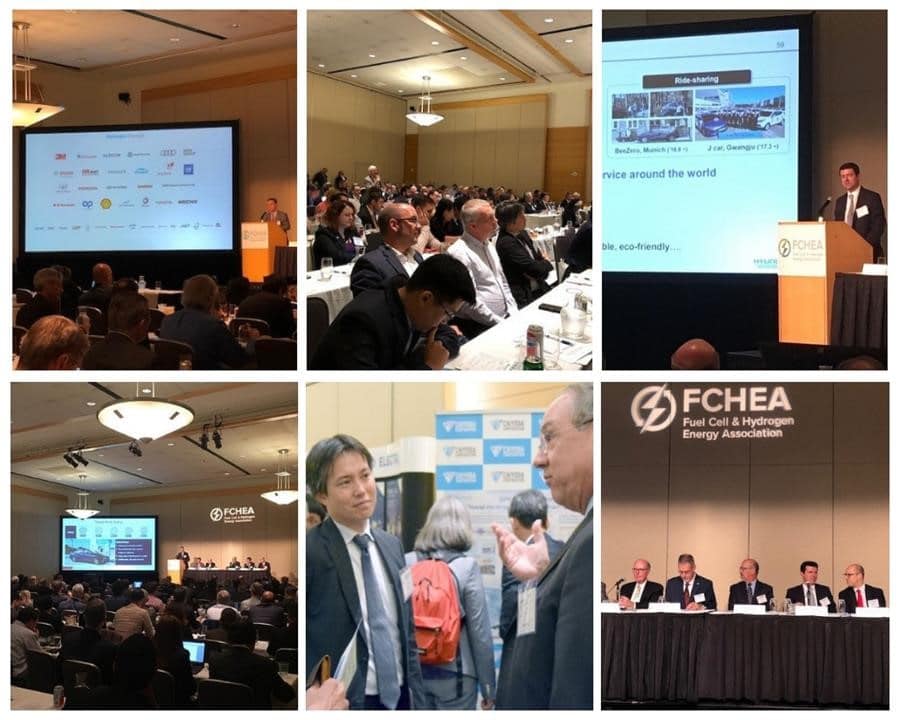 4. Convened 400+ stakeholders for a first-of-its-kind forum on hydrogen in Beijing, China
In June, the Hydrogen Council convened in Beijing for the Hydrogen Industry Development Innovation Forum. Co-organized alongside EV100, Hydrogen China, and the International Hydrogen Fuel Cell Association, with support from the United Nations Development Programme, more than 400 stakeholders took part in a productive exchange on the status of hydrogen deployment in China and beyond, and explored new areas for collaboration. Learn more here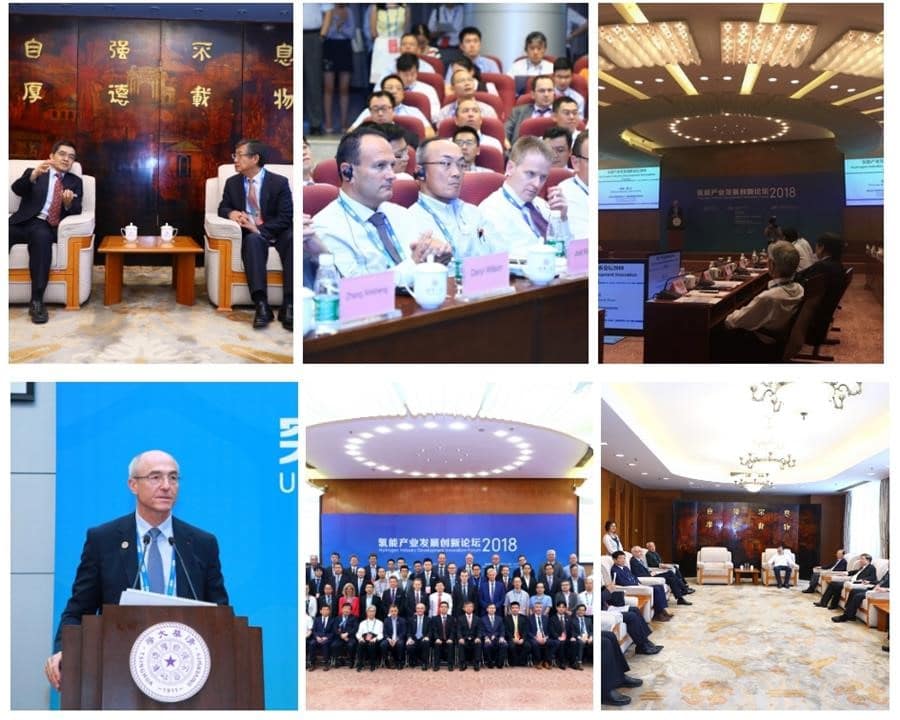 5. Joined world leaders at Global Climate Action Summit in San Francisco, USA
In September, the Hydrogen Council held its 3rd Annual CEO Event in San Francisco, USA, alongside the Global Climate Action Summit (GCAS). More than 100 CEOs and executives gathered for a day of networking and collaboration around such topics as global hydrogen market development, the ways hydrogen and ICT can work together, and specific actions to be prioritized between the Council and its partners. Council co-chairs, Benoît Potier and Dr. Woong-chul Yang, presented at the GCAS on behalf of the Council, at which time they also announced the Council's commitment to a goal of ensuring 100% of hydrogen fuel used in transport is decarbonised by 2030. Learn more here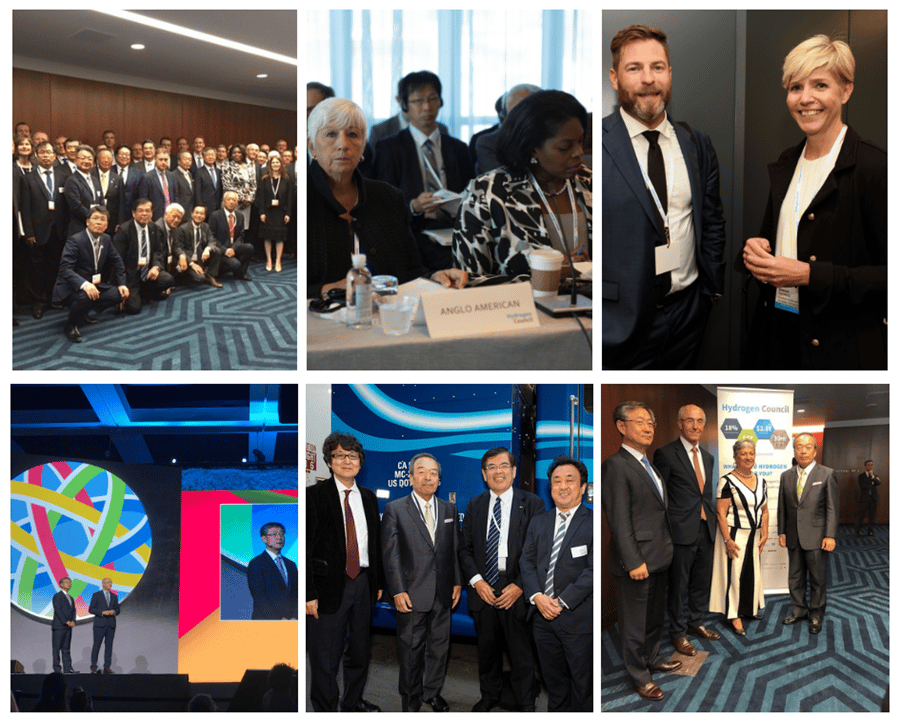 6. Explained how hydrogen can contribute to sustainable growth through "Hydrogen, Scaling Up"
The Hydrogen, Scaling Up report was first presented at COP23, and to continue the momentum, the Council launched an online campaign, showing the roadmap for scaling global hydrogen deployment, across sectors, and the benefits of doing so. Among key findings, the roadmap clearly illustrates the potential for hydrogen's impact on our environment and the economy. Learn more here
7. Quadrupled membership to 53 hydrogen frontrunners across Asia, Europe, and North America
The Hydrogen Council welcomed an additional 14 members this year. We would like to send a special thank you to each company for their commitment to the Council and the work they have put in thus far: AFC Energy, Airbus, Air Products, Cummins, EDF, Johnson Matthey, KOGAS, Mitsubishi Heavy Industries, Ltd., Re-Fire Technology, SINOPEC, Southern California Gas, Sumitomo Corporation, Sumitomo Mitsui Banking Corporation, and thyssenkrupp. The Hydrogen Council now consists of 53 leading companies, accounting for 3.8 million jobs and €1.8 trillion in revenue from across 11 different countries. Learn more here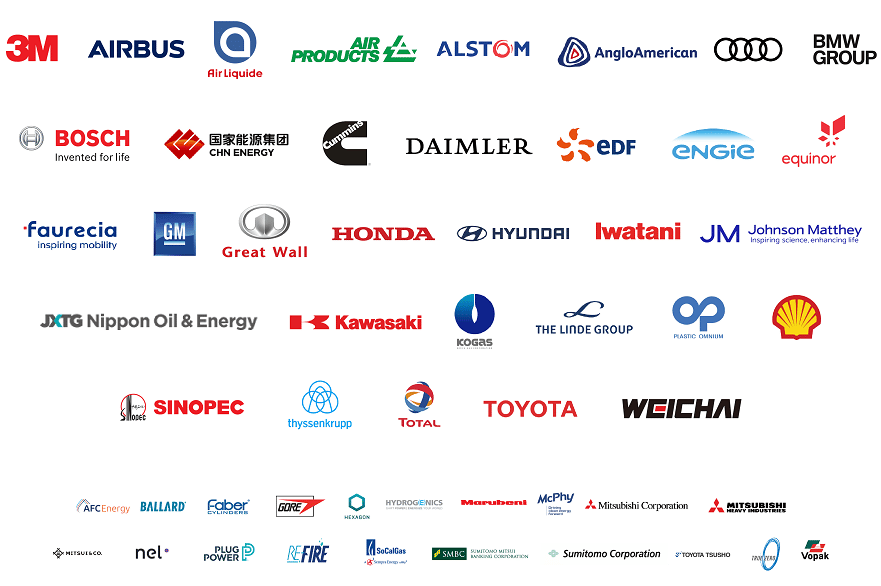 8. Engaged with tech experts to create a new report on "Hydrogen Meets Digital"
Connecting with movers and shakers of Silicon Valley, the Hydrogen Council published a new discussion paper, Hydrogen Meets Digital, highlighting how hydrogen can help decarbonise the digital economy, including data centers, autonomous cars, VTOLs, and other exciting new innovation. Read the full report or check #hydrogenmeetsdigital on Twitter and LinkedIn to learn about key facts and insights into how hydrogen innovation can lead us into the future. Read the report here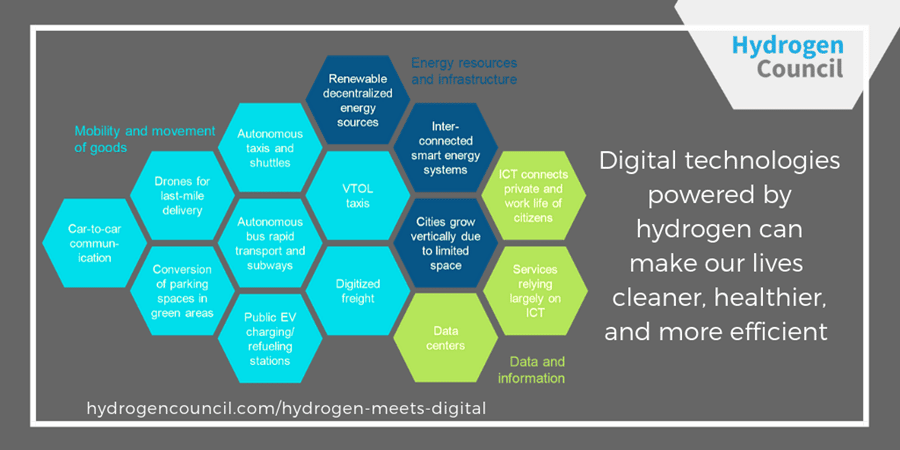 WANT MORE? FOLLOW US ON TWITTER!
The Hydrogen Council's online community has grown tremendously this year, with our following more than doubling since January. Give us a push and follow @HydrogenCouncil for hydrogen news and Council updates!