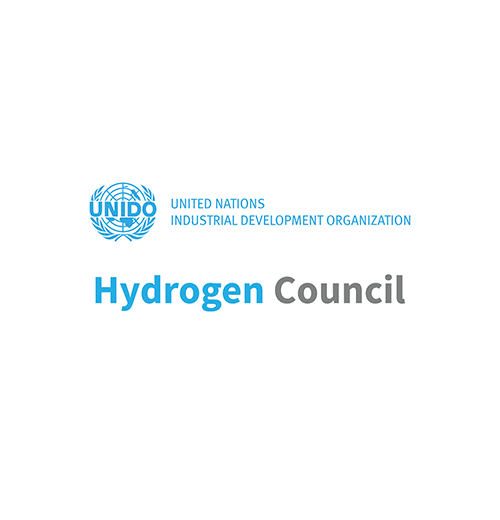 Accelerating decarbonisation and just transition with renewable hydrogen and derivatives
BRUSSELS, August 4, 2023 – A truly global hydrogen economy will play a key role in supporting sustainable economic growth in emerging markets and transition economies and facilitating supply diversification for importing regions while accelerating decarbonisation. As we move from strategies and announcements to implementation on the ground, UNIDO and Hydrogen Council advance close cooperation to help unlocking environmental and socio-economic benefits of renewable hydrogen and derivatives internationally.
On July 18, UNIDO and Hydrogen Council signed a Joint Declaration on the sidelines of G20/CEM14 in Goa, India, reinforcing ongoing strong collaboration, in particular, on:
Advancing public-private dialogue between decision-makers and CEOs in the framework of the International Hydrogen Trade Forum and support the Forum activities, including with the Hydrogen Council insights;
Assessing and identifying best practices in maximising social value of the hydrogen economy in the emerging markets and developing countries, through the SDG Roadmap for Hydrogen;
Supporting the development of global standards for hydrogen, in particular, ISO standard methodology for GHG emissions assessment of hydrogen production, conditioning and transport developed by ISO TC197/SC1, as well as capacity building for developing countries to enhance their contributions to and participation in global standard development.
About UNIDO
The United Nations Industrial Development Organization (UNIDO) is a specialized agency of the United Nations with a unique mandate to promote, dynamize and accelerate sustainable industrial development. The mandate of UNIDO is reflected in Sustainable Development Goal (SDG) 9: "Build resilient infrastructure, promote inclusive and sustainable industrialization and foster innovation", but UNIDO's activities contribute to all the SDGs.  UNIDO's mission is to drive economic growth, reduce inequality, and address climate challenges by supporting developing countries and economies in transition in achieving sustainable industrial development and economic transformation, and to create new, decent jobs. 
For more information about UNIDO, please visit www.unido.org and follow us on:
Twitter @UNIDO  LinkedIn Facebook Instagram  Flickr  YouTube
About The Hydrogen Council
The Hydrogen Council is a global CEO-led initiative that brings together leading companies with a united vision and long-term ambition for hydrogen to foster the clean energy transition.
The Council understands that hydrogen has a key role to play in reaching global decarbonization goals by helping to diversify energy sources worldwide, to foster business and technological innovation as drivers for long-term economic growth, and to decarbonize especially hard-to-abate industrial sectors.
To find out more visit www.hydrogencouncil.com and follow us on Twitter @HydrogenCouncil and LinkedIn.
Media Enquiries
For questions or interviews, please contact UNIDO at hydrogen@unido.org and/or the Hydrogen Council at communications@hydrogencouncil.com.