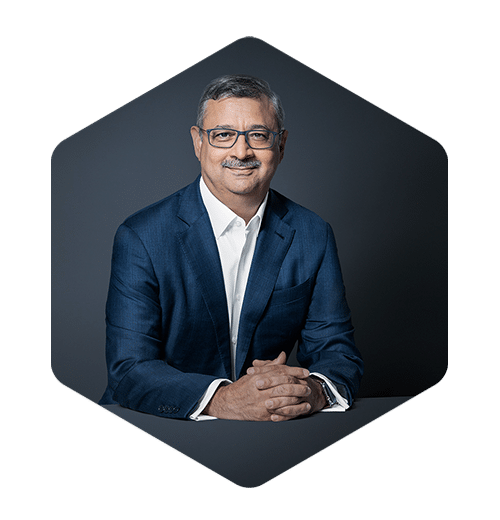 Hydrogen Council names Linde CEO Sanjiv Lamba as new Co-Chair at annual CEO event
BRUSSELS, June 6, 2023 – The Hydrogen Council today announces Sanjiv Lamba, CEO of Linde plc, as its incoming Co-Chair, joining Yoshinori Kanehana, Chairman of Kawasaki Heavy Industries, Ltd. Throughout the history of the Hydrogen Council, the joint leadership through Co-Chairs from different sectors and regions has been a strength.
Linde is one of the founding members of the Hydrogen Council and has been a leader in the hydrogen business for more than 50 years. The company was one of the first to advocate for the use of hydrogen as part of the solution to tackle climate change and today is at the forefront of the transition to clean hydrogen and clean energy.
Linde is helping its customers to decarbonize by delivering the latest hydrogen technologies through its world-class engineering organization, key alliances and ventures, and leveraging its extensive experience and infrastructure. Linde is developing clean hydrogen projects across a range of applications and industries and growing its established hydrogen business along the entire value chain.
Sanjiv Lamba takes over the role from Tom Linebarger, Executive Chairman and Chairman of the Board of Cummins Inc. The Council would like to thank Tom Linebarger for his strong leadership and passion as Co-Chair over the past two years.
The leadership hand off took place at the Hydrogen Council's annual CEO event at the start of June.
Nearly 200 of the world's business leaders in the global hydrogen economy gathered in Awaji Island, Japan to Take Action for Ecosystem Growth – the theme for this year's event.
About The Hydrogen Council
The Hydrogen Council is a global CEO-led initiative that brings together leading companies with a united vision and long-term ambition for hydrogen to foster the clean energy transition.
The Council understands that hydrogen has a key role to play in reaching global decarbonization goals by helping to diversify energy sources worldwide, to foster business and technological innovation as drivers for long-term economic growth, and to decarbonize especially hard-to-abate industrial sectors.
To find out more visit www.hydrogencouncil.com and follow us on Twitter @HydrogenCouncil and LinkedIn.
Media Enquiries
For questions or interviews, please contact:
Joanna Sampson, Communications Manager, Hydrogen Council
joanna.sampson@hydrogencouncil.com