On 13 September, the Hydrogen Council held its 3rd Annual CEO Event in San Francisco, USA. Occurring alongside the Global Climate Action Summit as an official affiliate, this year's event was entitled the Global Hydrogen Leaders Forum. The Council hosted several meetings and sessions throughout the day to reflect on the work completed thus far, and to brainstorm strategy and new ideas to further accelerate our mission moving forward. More than 50 CEOs and executives gathered for a day of networking and collaboration around such topics as global hydrogen market development, the ways hydrogen and ICT can work together, and specific actions to be prioritized between the Council and its partners. Several VIP guests were able to attend including California Energy Commissioner Janea Scott, California Air Resources Board Chairman Mary Nichols, and representatives from Japan's Ministry of Economy, Trade and Industry. We also had Microsoft, ABB, IBM, Uber, Visa, Salesforce, Flugauto, and other tech companies in attendance for a session on hydrogen and digital.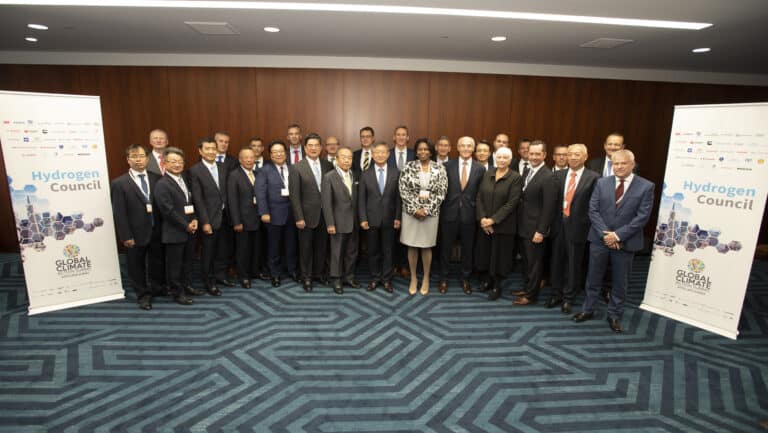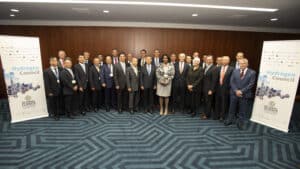 Dr. Woong-Chul Yang, Vice Chairman of Hyundai Motor Company and Co-chair of the Hydrogen Council stated, "The Hydrogen Council's third CEO event is a testament to how far we have come since the launch of this initiative about 18 months ago. More than fifty top industry leaders are here today to show hydrogen has a role to play and we need to act now to get it to scale and truly enable the energy transition. This transition needs to be sustainable environmentally, financially and socially, and hydrogen will help ensure it ticks all those boxes."
To mark its presence at the heart of tech innovation in California, the Hydrogen Council has also launched a new discussion paper – Hydrogen Meets Digital –  to investigate four exemplary applications that can particularly benefit from hydrogen. Developed with analytical support from McKinsey, it demonstrates how hydrogen and digital technologies can work hand-in-hand to drive our energy transition.
"Hydrogen will play a major role in the energy transition, but it is also key to power the digital revolution. We invite tech leaders to consider hydrogen solutions for digital applications. Together, we can deliver concrete solutions while ensuring a sustainable future." said Benoit Potier, CEO and Chairman of Air Liquide and Co-chair of the Hydrogen Council.
Find related: