Investing in the Hydrogen Economy
The Hydrogen Council engages the global investment community with the understanding that transitioning towards a low-carbon economy will require not only a paradigm shift but also large-scale financial investments. The investment community is critical to the Hydrogen Council's objectives as these important actors have the ability to turn the hydrogen economy from an idea to reality.
Smart investments and innovative financing is needed to scale up and mass deploy hydrogen technologies. The sector has worked together with a wide range of stakeholders to identify best practices and tools that will rapidly unlock a new, powerful phase of hydrogen deployment for the benefit of the whole system including a menu of financing tools that can help manage risk and serve as a bridge to market deployments.
The Hydrogen Council is committed to bringing together key stakeholders to stimulate investment through our membership and partnerships with financial institutions. You can learn more about the role of the Hydrogen Council alongside the investment community below.
The Investor Group
The Investor Group is a category of Council membership comprised of banks and other financial institutions that are actively pursuing the emerging hydrogen economy. This Group works collaboratively to develop public policies and financial schemes centered around large-scale hydrogen deployment. The Investor Group was launched in January 2020 and currently comprises nine banks and investment firms: Antin Infrastructure Partners, Barclays, BNP Paribas, Crédit Agricole, FiveT Hydrogen, GIC, John Laing, Mubadala Investment Company, Natixis, Providence Asset Group, Société Générale and Sumitomo Mitsui Financial Group (SMFG). Read more here.
Partnership with the European Investment Bank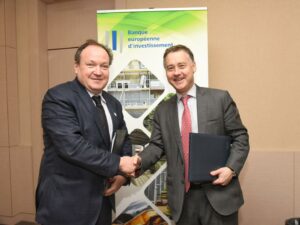 The Hydrogen Council and the European Investment Bank (EIB), one of the world's largest providers of climate finance, signed a landmark agreement in 2019 to collaborate on the development of innovative schemes to finance hydrogen projects to address climate change. Under this partnership delivered through the InnovFin Advisory program, EIB will provide strategic financial advice and support to companies preparing to deploy large-scale hydrogen projects, making such solutions more readily available to consumers around the world. The Hydrogen Council and EIB will work together on identifying relevant hydrogen projects and schemes to finance them. EIB will provide to the Council and its members extensive knowledge sharing and support to navigate the financing schemes that exist within and beyond the EIB, in order to bring hydrogen projects to life. You can learn more about this partnership here.
Investor Days
Investor Day 2019 @ G20 Summit
On 15 June 2019 during the Ministerial Meetings of the G20 Summit in Japan, the Hydrogen Council hosted its event, #HydrogenNow: Investing in the Energy Transition. The event convened Council members, government officials, investors and industry associations to showcase flagship hydrogen projects around the world and discuss ways to overcome the bottlenecks that prevent the investment needed for large-scale hydrogen deployment. The message to the packed room was clear: there are multi-billion-dollar hydrogen projects already in production or soon to deploy, so now is the time to invest. A roundtable discussion provided the investment community the opportunity to share its perspective on the concrete next steps that will help bring hydrogen technologies up to scale. You can learn more about this Investor Day event here.
Investor Day 2017 @ New York Climate Week
On 18 September 2017, the Hydrogen Council hosted its inaugural Investor Day, Hydrogen: ready to scale. As an affiliate event of New York Climate Week, the ground-breaking event boasted more than 160 investors, industry experts and policy stakeholders. Panels covered how hydrogen empowers the energy transition; why these technologies are now considered market-ready; existing business cases and investment opportunities, as well as the strategies and tools required for scale deployment. Presentations from Hydrogen Council members, as well as industry guests and stakeholders, introduced various elements of the hydrogen market, deployment needs, commercial development and more. Presentations can be viewed and downloaded here.
Learn more about how investors can help scale hydrogen: